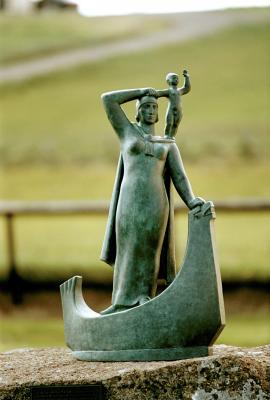 Snorri Ůorfinnsson, son of Gu­rÝ­ur Ůorbjarnardˇttir and Ůorfinnur Karlsefni, wasáa farmer at GlaumbŠráin 11th century.
In the Sagas Gu­rÝ­ur Ůorbjarnardˇttir was without doubt one of the most widely-traveled women of her time. She crossed Europe twice on foot, and made eight ocean journeys. She was a participant in Nordic exploration of new lands, lived through the change from heathenism to Christianity, and handled her role well.á
The symbolic depiction of Gu­rÝ­ur on the right is a photograph of a sculpture by ┴smundur Sveinsson, dating from 1938, which can be seen in front of the GlaumbŠr church.
GlaumbŠr chief fame lies in the renown and influence its inhabitants exerted both upon Iceland and the world at large. They were among the first settlers in North America and Greenland and Gu­rÝ­ur gave birth to the first European child born on North American soil. They were heroic and influential people and were featured prominently in the ancient Icelandic sagas.á

According to the Sagas, the first known inhabitants of GlaumbŠr lived here in the 11th century. They are mentioned in the Saga of the Greenlanders, which tells of the explorers Leifur EirÝksson and Ůorsteinn EirÝksson, sons of EirÝkur the Red, and Gu­rÝ­ur Ůorbjarnardˇttir wife of Ůorsteinn, as well as her second husband Ůorfinnur Karlsefni and their son, Snorri Ůorfinnsson. Gu­rÝ­ur Ůorbjarnardˇttir is mentioned both in the Saga of the Greenlanders and in the Saga of EirÝkur the Red. Gu­rÝ­ur, a granddaughter of an Irish freedman, was born in the 10th century in SnŠfellsnes in western Iceland. She emigrated to the Icelandic settlement in Greenland founded by EirÝkur the Red, and married his son Ůorsteinn, who soon died. The young widow then married Ůorfinnur Karlsefni, a merchant and a farmer from Sta­ur in Reynines (now Reynista­ur) in Skagafj÷r­ur.á

Gu­rÝ­ur and Ůorfinnur explored VÝnland (now called Newfoundland), which had been discovered by Leifur EirÝksson, former brother-in-law of Gu­rÝ­ur. They stayed there at least one winter, and planned to settle permanently. Their son, Snorri, was born in the New World. Due to conflict with the aboriginal inhabitants, they did not remain there long and returned to Iceland. Initially they lived at Ůorfinnur old home at Reynines. They may haveáthen purchased the estate of GlaumbŠr, in 1010 or so, and settled there. This is not certain. But after Ůorfinnur passed away, Snorri farmedáat GlaumbŠr. Gu­rÝ­ur decided to make a pilgrimage to the Pope in Rome. Snorri had a church built in his mothers absence, the first known to have stood at GlaumbŠr (Iceland adopted the Christian religion in AD 1000). According to the Saga of the Greenlanders, on her return Gu­rÝ­ur became an anchoress, living in solitary worship.